Sorry for leaving you hanging for the last couple of weeks. We were in Brazil taking in some sun, visiting the sites and watching the beautiful game.
We barely scraped the surface on our whirlwind tour of Brazil but it was packed with highlights. We hiked to the immaculate beach of Lopez Mendez on Ilha Grande. In Rio, we kicked off the world cup on the Copacabana, made the requisite stops at Christ the Redeemer and Sugar Loaf Mountain and went hang gliding for Emily's birthday. We experienced the wonder of an overflowing Iguassu Falls and took in a glimpse of high society around Paulista Avenue in Sao Paulo. Oh, we also witnessed Tim Cahill bury a beauty of a goal in the fixture between the Netherlands and Australia; there was beer and popcorn flying everywhere.
We arrived home over the weekend and are trying to get back into the swing of things. The one thing that we haven't gotten to yet is the state of our finances. How much did we spend over the course of our trip? We don't know. We're currently running blind.
This isn't a scenario we are familiar with. We're generally pretty conscious of our spending and track purchases made on our credit card, but this time around, we paid for most everything in cash. I could have, should have, would have written down our purchases, but didn't care to bring a pen and notebook around. I would have used my phone to track purchases, but in my defense, it died right before we left. (On a side note, I've just fixed it for $10 with a battery replacement kit off eBay and some handy iPhone 4 battery replacement instructions)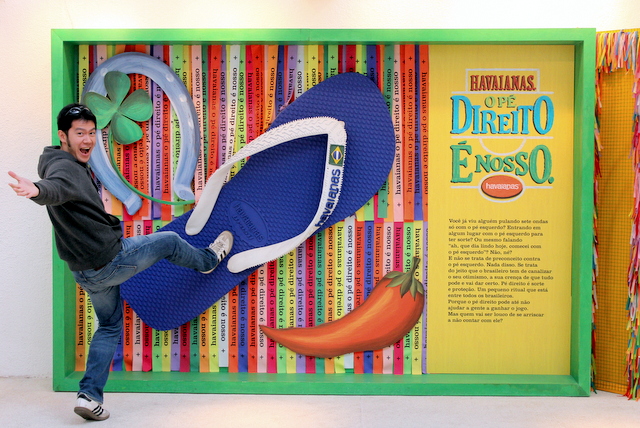 The Canadian Dollars we converted to Brazilian Reais are all gone. It was spent on tasty pastels and maybe a pair of Havaianas too many. It was certainly an enjoyable time, but the full effects our free spending may result in some belt tightening in the coming months. The challenge will now be to grudgingly sift through all of our remaining transactions and make the necessary adjustments. We're not looking forward to it but ignoring the situation won't make things any better. We best get to it.
How do you keep track of your expenses when you travel?