The journey of every first-time home buyer starts with the underlying desire to establish roots, build a home and maybe even start a family. It's challenging to navigate the obstacles in the home buying process; saving for a down payment and securing a mortgage take patience and determination.
It's not every day that you'd commit to take on hundreds of thousands of dollars in debt and the emotional roller coaster is enough to drive anyone crazy. In the spirit of Financial Literacy Month, here are a few things to consider if you're in the market for a new home purchase.
To Buy or not to Buy?
That is the question. Whether you're living at home or renting, there's no escaping it. Acquaintances will ask and parents will prod. One by one, friends will hop on the real estate train until it seems like you're the only one left standing at the station. Some will argue that rent is throwing away money and others may try to convince you property is a good investment.
Hard as it may be, ignore the commentary. Taking on a mortgage should be approached cautiously and deliberately.
The Trade Off
So you've saved diligently and have made the decision to buy. A lender will decide the maximum amount that can be borrowed based on a formula that calculates the home buyer's ability to pay back the loan. That number may seem very generous but be wary of borrowing the maximum amount. It's to the lenders benefit for homebuyers to take out a large mortgage- after all, profits come from the interest on the loan.
According to the latest from the Toronto Real Estate Board, the average price of a condo is $415,643 while a house is expected to fetch an average of $764,872. Assuming an interest rate of 2.24% with 25 years to pay it off, a minimum 5% down payment ($20,782) on the average condo would result in monthly payments of $1,780. The remaining $394,861 would be subject to $296,050 in interest over the amortisation period, pushing the cost of the home to $690,911 – that's assuming interest rates stay put.
As of 2016, new rules specify that homes between $500K and $1M require a minimum down payment of 5% on the first $500K plus 10% on the remaining balance. That works out to a minimum 6.7% down payment ($51,487) on an average house with monthly payments of $3,216. Over 25 years at an interest rate of 2.24%, the $713,385 mortgage would accumulate $534,866 in interest, resulting in net cost of over $1.2 million. Home, sweet home indeed.
Before you decide on how much to borrow, take some time to think about how the cost of a mortgage will affect your lifestyle and savings goals. A higher monthly payment can lower your standard of living and limit the capacity to deal with unexpected circumstances. A rise in interest rates, property taxes, maintenance and utilities can stretch finances thin. Reduced income from job loss or unplanned leave could also put repayment obligations in question. The stress of it all can push saving to an afterthought.
A smaller mortgage with affordable payments, even if that involves a smaller property, leaves more room for fun, flexibility and a financially secure future. It means enough cash on hand for splurges, a reserve to deal with any surprises and long term child education and retirement investments.
The Resources
If you're in the market for a new home and have some questions about the mortgage process, the Financial Services Commission of Ontario (FSCO) has put together a comprehensive set of resources to help understand mortgages and demystify the home buying experience.
The material includes a breakdown of the Different Types of Mortgages, explains the Risks of Getting a Mortgage and outlines the Mortgage Application Process. Becoming familiarised will ensure you are comfortable with, and prepared for the home buying process.
In Practice
As prospective home owners years ago, Emily and I were approved for a small fortune sufficient for a decent sized detached in the GTA. But rather than take on a debt of well over half a million dollars, we opted instead for a much smaller mortgage and thus, a smaller space. At the bewilderment of our families, we settled on a condo in the city: a 2 bed/2 bath with a total of 850 square feet.
8 years in and 2 kids later, the decision has worked out well for us. Sure, we've made some changes to adapt with evolving life situations; we've swapped bedrooms and the kids now play and sleep in the master. On the other hand, we're debating the merits of paying off the remaining mortgage in 3 years.
The flexibility to use our funds, which would be otherwise tied up in servicing our housing costs, allows us the breathing room to live a little. We live comfortably, splurge on travel, save for our children's education and invest in our future wellbeing.
That said, we could "afford" to move out now if we wanted to. Likelihood is that we'll decide to upgrade to a larger space one day. That day, however, is still many years away. In the meantime, we'll continue to enjoy the accoutrements of city living and the adventure of our jet setting ways.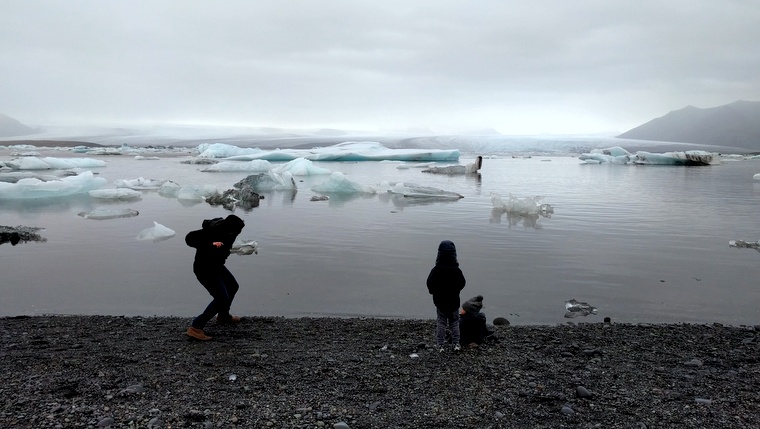 Skipping rocks at the glacier lagoon – Jökulsárlón, Iceland.
The Last Word
The lure of home ownership is undeniably tempting. Before you drink the Kool-Aid and go bottoms up on a new home buy, take some time to read up on mortgages and the home buying process with the resources provided by the Financial Services Commission of Ontario.
The decision to buy is deeply personal and depends on a whole host of factors. At the risk of becoming house rich and cash poor, take a minute to think about the full purchase price after the interest has been factored in. Also consider how taking on a smaller mortgage can free up cash for use as you see fit.
Weigh the implications of a sizeable mortgage against the values and lifestyle that you want to maintain to help in determine the type of home you want to buy.
If your money wasn't tied up in mortgage and interest payments, what would you do with it?
This sponsored post was written in partnership with the Financial Services Commission of Ontario for Financial Literacy Month. All thoughts and opinions are my own.