Korean Eats in Seoul, Korea
From kimchi to bimbimbap, Korean cuisine is readily available in many parts of the world. There are about a dozen delicious options, such as kimchi jjigae and bulgogi, that every one knows, but there is also a plethora of Korean dishes that are less known outside of Korea. When we travelled to Seoul, I made it my mission to seek out the Korean foods I haven't had before; I came up with a list of thirty items and everyday was a quest to cross something off the list. Below is a summary of the top four places we ate in Seoul, Korea.
Street Food

The endless street eats truly dwarf our selection in our beloved Toronto. Food vendors line the streets, selling delicious snacks in their carts and stalls. The types of street food offered are extremely diverse- some odd (french fry encrusted hot dogs), some expected (meat skewers), all delicious. My absolute favourite was gyeran bbang, egg bread; it is an oval piece of dense bread, reminiscent of cornbread, with a baked egg on top. The savoury egg, sprinkled with a little salt, complimented the sweet bread perfectly, and since it was served hot off the grill, it kept us warm during long wintry walks outside. Another favourite were these little egg cakes filled with creamy custard. They were sold at a number of underground subway entrances. We found the best stand to at Myedong Station; They served their Deli Manjoos to order, so hot, we would have to wait for manjoos to cool off before scarfing them down. We would purposely go out of the way to make stops at Myedong station to buy a bag of their manjoos.
Gwangjang Market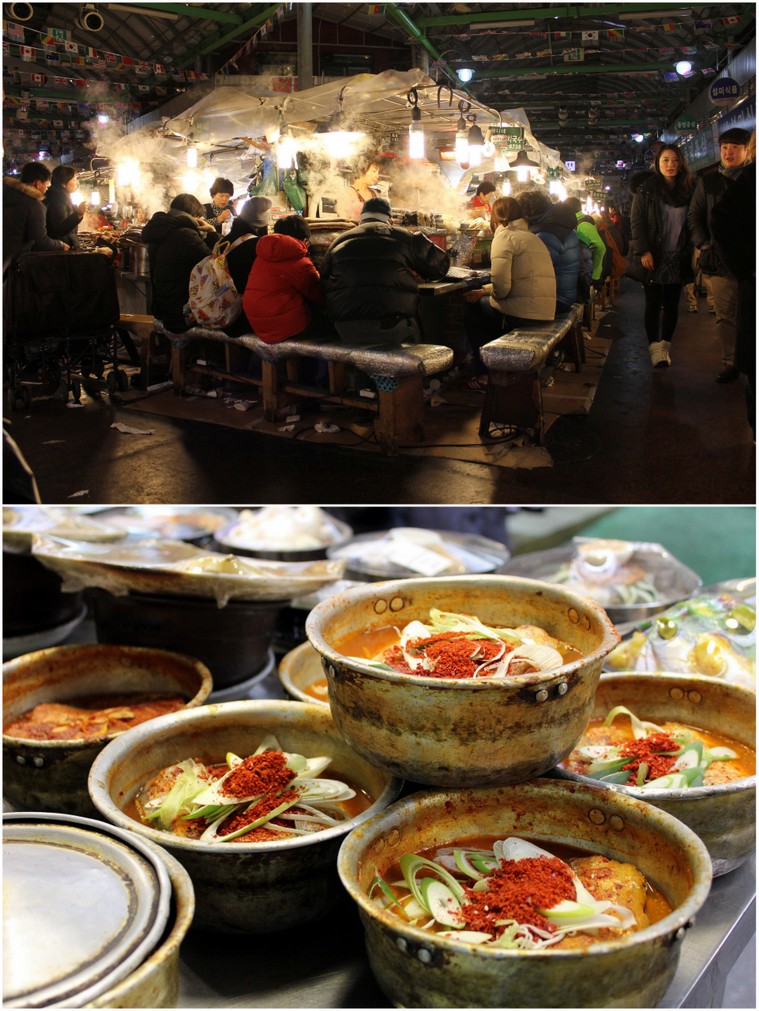 Gwangjang Market came highly recommended by a friend who had been to Seoul before, and we decided to have dinner there late one evening. All the shops were all closed by the got there. We wandered through dimly lit alley ways with stores all boarded up; I thought we were in the wrong place and was about to turn around when saw glimmer of light and heard murmurs of conversation in the distance. At the center of the Gwangjang Market is a lively and bustling food area. There were stalls upon stalls of food vendors, and alleyways dedicated to specific food items, like gimbap or mandu (dumpling) alley! We had the famed mung bean pancake and gimbap- what the market is known for- among other things, like tteokbokki (spicy rice cakes) and odeng (fish cakes). Our favourite thing at the market was yukhoe, a Korean steak tartare served with julienned Korean pear. It's absolutely delicious!
Nvoryangjin Wholesale Fisheries Market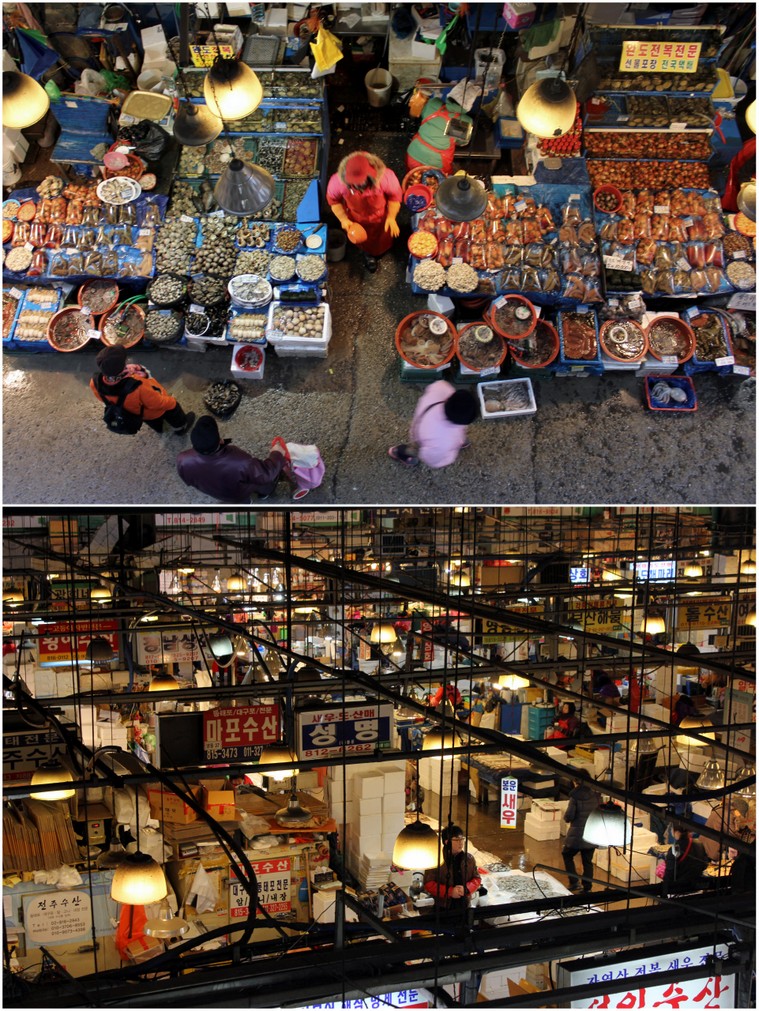 Nyoryangjin is a wholesale fish market- the largest in Seoul. It's essentially a huge warehouse filled with vendors selling live, frozen and dried seafood. Being a huge seafood lover, an excursion to Nyoryangjin was the activity I looked forward to most in Seoul.
We went late one morning for lunch. At Noryangjin, you pick your seafood at a stall and then bring it to a restaurant where they prepare a meal for you for a cooking fee. We wandered around the market, before randomly choosing a stall to make our purchase: snapper fish, scallops and shrimp. The total cost of our seafood totaled $40 CAD (it's likely that we overpaid). The vendor at the stall filleted half our fish for Korean-style sashimi (more accurately called hweh); the rest of our fish was turned into a warm hearty soup. It was the first time we had hweh, which is eaten wrapped in shiso leaves with a dollop of fermented soybean paste. Yummy, but it was the soup that had us at hello; it was so flavourful! The rest of the food was grilled, seasoned only with salt and pepper. That too was delicious.
Since food was pricey, we decided it wasn't worth money on the sannakji, the infamous raw octopus. The family sitting next to us saw our interest and was kind to share some of theirs with us. Daniel and I had trouble picking up a chopped piece of writhing octopus; it continued to wiggle in our mouths as we tried to swallow it quickly as we could. Not my cup of tea, but it was fun to try!
Kimbap Restaurant Around the Corner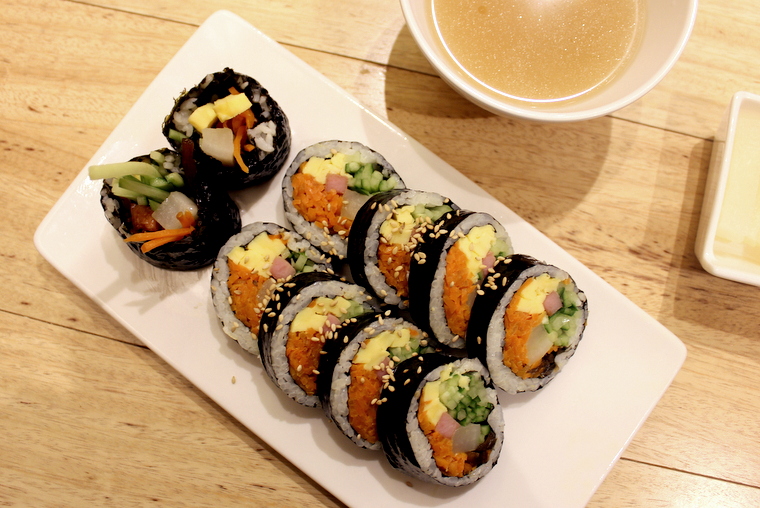 We ate a lot of good food on our trip: street carts, stalls, restaurants, food courts, cafes and bakeries, old ladies selling food on street corners etc, but our favourite restaurant was a small eatery across the street from our accommodations. The restaurant was rather inconspicuous, without any big signage; I only noticed it because there was lady wearing a chef's hat standing by the window front. The restaurant specializes in kimbab, offering 8 different kinds of rolls made from the freshest ingredients. The menu is only in Korean and the wait staff do not speak a word of English, but the rolls brought us back over and over again. We ate there at least four times. The food truly was trifecta: fresh, tasty and cheap; a meal, where we would struggle to finish all the food, cost us only 18000 wons (approximately $18 CAD).
Cost of Food
Food was more expensive than anticipated. We tried to mitigate food expenses by cooking in the small kitchen of our accommodations, but we found groceries to be costly as well. We generally ate breakfast at our accommodations, but that's not to say we wouldn't stop for a second breakfast (there was a street vendor right outside the subway station that sold spam and eggs on toast- so delicious!). We would "splurge" for lunch or dinner, and eat street food or kimbab for the other meal. On average, we would spend $40 for a big meal for our family of three and then another $10-20 on small eats throughout the day.
Last Word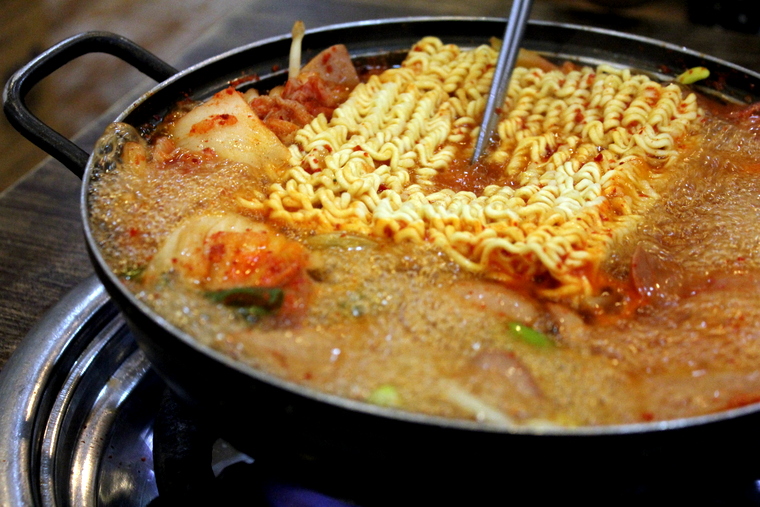 Seoul, Korea is a foodie's haven. There is food at every corner, sold from carts, stalls, restaurants. Skipping the dishes we were familiar with in favour of ones on my Must-Try List, I gained a better appreciation for Korean cuisine. Big Brother loved trying different street food- especially anything on a skewer. The baby in my belly had an affinity for all things spicy and I couldn't have enough of budae-jjigae (army base stew), instant noodles cooked in a spicy broth with sausages, beans and spam. Daniel enjoyed Korean fried chicken and beer, and would have been happy to have that at every meal if it wasn't for my mission to try thirty new Korean foods. We were very close to accomplishing my goal and checked off 29 items off the Must-Try List. I am sad to report I was unable to find genang (raw crab marinated in soy sauce) and am continue to search for it here in Toronto. I guess I'll just have to return to Seoul one day.