Every time I watch an episode involving real estate purchases in the US on HGTV, I marvel at how affordable some of the properties are. Houses with acreage can be purchased for $250,000- granted none of these homes are not located in large metropolitan areas. Housing prices in Toronto have been steadily increasing with no ceiling in sight. So much so to the point that descriptions of our housing market often include the words over inflated and potential bubble. Is it really that bad?
The Cost of Housing in Toronto
Here are a few fun facts to set the stage:
The type of home you can buy varies, depending on the property, physical housing, conditions, and, of course, location. To give some context, Toronto is a big city. Population wise, Toronto is the largest city in Canada, and fourth largest in North America. Geographically, it covers an area of 630 square kilometers, which is larger than the entire country of Singapore (and I'm not talking about the Greater Toronto Area, just the municipality of Toronto). Being a big city with over 240 neighbourhoods, housing prices- so dependent on location, location, location- varies tremendously.
To better illustrate what kind of home you can buy in Toronto, let's compare a random sampling of houses listed at $250,000, $500,000, $750,000 and $1,000,000. For the purpose of this comparison, the house search is focused around Old Toronto, the retronym of the original city of Toronto prior to 1998 (when it amalgamated with surrounding municipalities into it's present day "City of Toronto"). Old Toronto covers the historic core of Toronto and the area with the densest population and excludes the areas known as North York, Scarborough, East York, York and Etobicoke (don't we all love a mini geography lesson?).
The Price is Right… at $250,000
Summary of Listings
[table]Building Type, Apartment, Townhome, Semi-detached, Detached
Approximate No. of Listings,60,0,0,0
Approximate No. Bedrooms,0-1,NA,NA,NA
No. Baths,1,NA,NA,NA
Approximate Square Footage, less than 550, NA, NA, NA
Location, Downtown, NA, NA, NA[/table]
All properties at this price offer a contemporary open concept apartment (let's face it, most of them are one room with kitchen appliances on one wall), "perfect" for the young professional. Most listings at this price are located in the downtown core, accessible by public transportation and close to restaurants and shops, and just a short walk away from the financial district. The apartment units are in impressive skyscrapers, offering amenities that include gym, pool, party room, terrace AND MUCH MORE (as advertised by real estate agents and property listings)!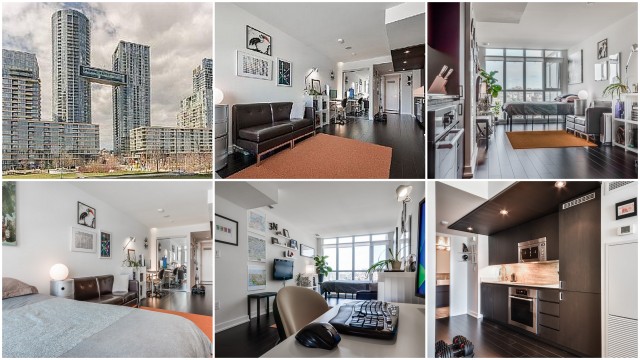 For $249,900, lucky bidders will be rewarded with the gorgeous, sleek and modern studio (398 sq. ft.) at a newly constructed high rise in downtown Toronto. Less than 500 meters from Lake Ontario, you will not get a waterfront view (it's facing north- the other direction), but you can get a glimpse of blue water (and the highway) from the rooftop terrace while hosting a barbeque party for your yuppie friends (that is, if you're able to reserve the terrace for your party in a complex with over 1200 units). There are a plethora of restaurants within 1 kilometer away if you don't want to cook in your kitchen with less than 4 sq ft of counter space.
The Price is Right… at $500,000
Summary of Listings
[table]Building Type, Apartment, Townhome, Semi-detached, Detached
Approximate No. of Listings,50,6,2,1
Approximate No. Bedrooms,2,2,3,1 + 1
No. Baths,2,2,2,1
Approximate Square Footage, less than 1000, 1000, 1500, less than 1000
Location, Throughout Toronto, West, Midtown (North-West), Midtown (North-West)[/table]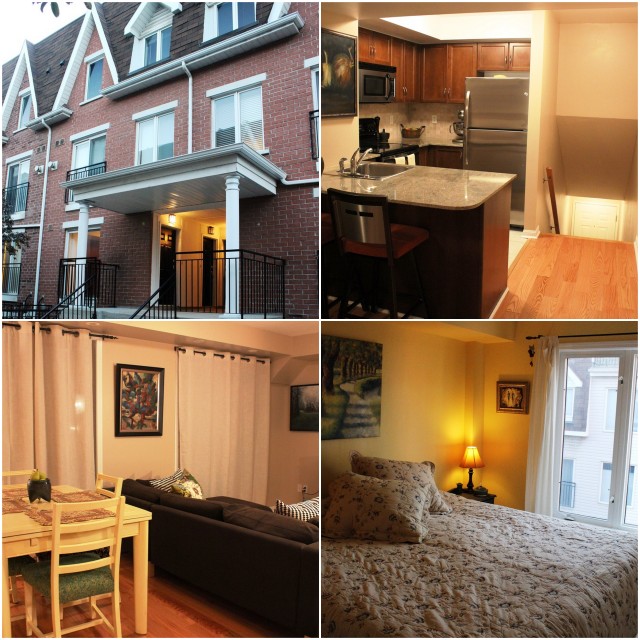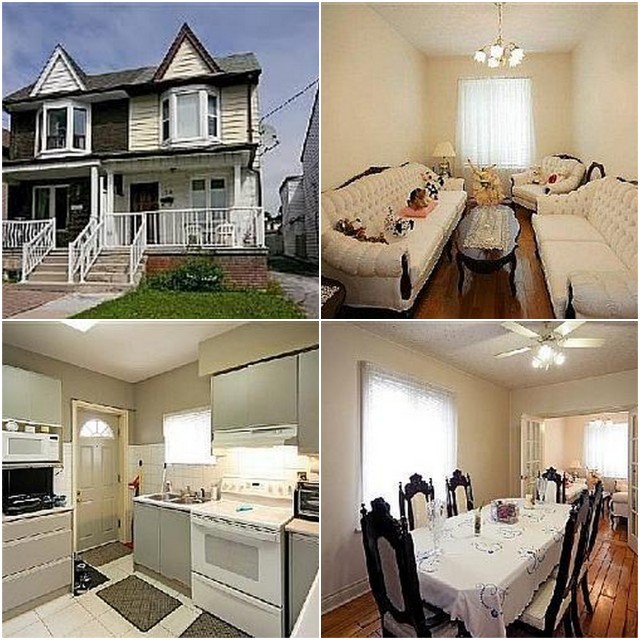 The majority of the listings priced at half a million dollars in Old Toronto are still condominiums; the closer in proximity to downtown or the lake, the smaller the unit (less than 900 sq ft, not including balcony). You can find a rare condo townhome (under 6 listings on MLS at the time of writing) outside the downtown core. Venturing a bit north-west to the Dovercourt-Wallace-Emerson-Junction, a rough around the edges neighbourhood on the cusp of being up-and-coming (one of poorest neighborhoods in the city 10 years ago but now starting to see an influx of art galleries and new restaurants), you can find semi-detached house priced at $500,000- decent sized house, but in a meh location.
The Price is Right… at $750,000
Summary of Listings
[table]Building Type, Apartment, Townhome, Semi-detached, Detached
Approximate No. of Listings, less than 20, less than 10, less than 10, less than 10
Approximate No. Bedrooms, 3, 3, 3, 3
Location, Downtown Core, Throughout Toronto, Midtown, Uptown & Midtown[/table]
The number of condos begin to dwindle at $750,000- but that's not to say there aren't still many- concentrated in the downtown core; you still won't find houses downtown at this price range. However, moving north, house listings begin to appear! In nice family-oriented neighbourhoods too! The houses are approximately 1500 sq ft and do come with basements in varying conditions, potentially adding another 750 sq ft of living space. These types of properties are infamous for the ridiculous bidding wars that pit young families – who are willing to offer 10-15% more than asking – against each other; so though listed at $750,000, it's likely they will sell for for closer to $850,000.
The Price is Right… at $1,000,000
Summary of Listings
[table]Building Type, Apartment, Townhome, Semi-detached, Detached
Approximate No. of Listings, 10, 10, 10, 10
Approximate No. Bedrooms, 3, 3, 3-4, 3-4
Location, Throughout Toronto, Throughout Toronto, Uptown & Midtown, Uptown & Midtown[/table]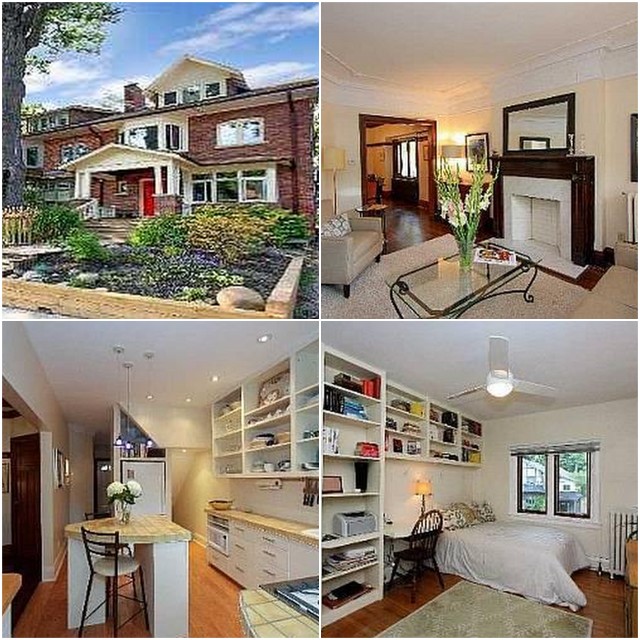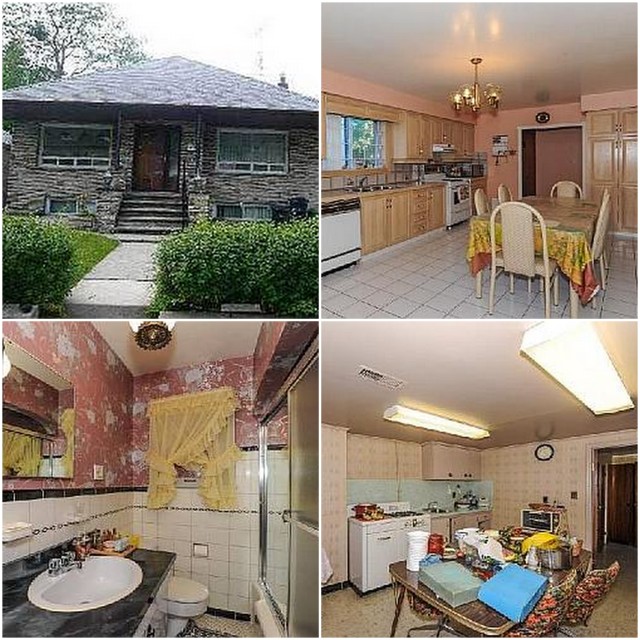 And at a million dollars, you have a choice of 40 listings- 50 percent of which are still condos and condo townhomes. The remaining houses in varying conditions are scattered throughout nice neighbourhoods in the city. The houses are also relatively small (less than 2000 sq ft) in comparison to houses in the nearby suburban municipalities, and generally much older (read require TLC, renovations, upkeep and maintenance). Here are a couple noteworthy listings: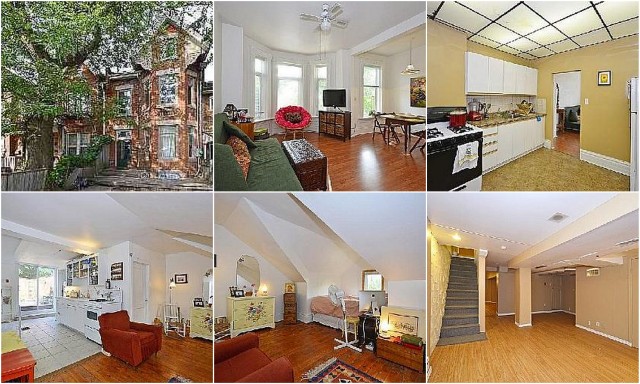 A Victorian townhome located in the highly coveted Trinity Bellwoods neighbourhood (great restaurants, lots of shops, huge park, close to downtown, lots of hipsters). What makes this house special is that it is separated into four apartments, with each floor containing its own kitchen and master bedroom. At a million dollars, it even comes with tenants in 2 of the apartments. Perhaps an investment opportunity?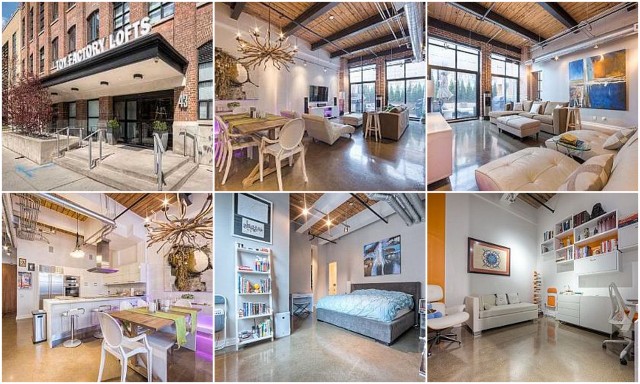 A stunning loft in a century old toy factory located downtown, Toronto. Notable features include 13 ft ceiling, floor to ceiling windows, exposed douglas fir beamed ceilings, exposed brick walls, modern kitchen with high-end appliances, and an extra-large parking spot "large enough for two cars". The unit is advertised as as one bedroom plus den, but the entire unit is spacious with over 1400 square feet of living space.
Last Word
In the days of the American land rush, Mark Twain quipped, "Buy land, they're not making it anymore". Torontonians still seem to be taking his advice to heart- bidding against others on properties in need of serious TLC and opting to gut and renovate at outrageous expense. Detached homes in the city come at a hefty premium and the more affordable options mysteriously shrink in size with every passing year.
On the low end of the spectrum, $250,000 doesn't get you very much in Toronto. On the other end, a $1,000,000 property still not enough for a detached home with the white picket fence. Maybe it's time to kill the dream of homeownership. The large disparity in housing prices varies depending on location, size and condition; finding the perfect combination is like chasing the white rabbit and leave you rather depressed. Houses for more affordable prices are likely found with less desirable surroundings while nicer locales offer "cozier" layouts. In either case, there are bidding wars and condition of property to take in consideration; both can add a significant sum to the property's purchase price.  Prospective homeowners in Toronto will need to patiently weigh their options and decide whether on the right balance; for those of you who are looking, good luck!
REAL ESTATE COMPARISON IN OTHER CITIES
Whenever we travel, we often find ourselves standing outside a real estate office wondering if we could afford to live in the city we're visiting. It's fun, but you never get the full context the listings unless you talk to a local. We can't take you on vacation with us, but our blogger buddies can take you on a tour of the local real estate scene in their respective cities. Scratch that itch. You know you want to!
CANADA
U.S.A.
NEW ZEALAND
How are housing prices in your area?