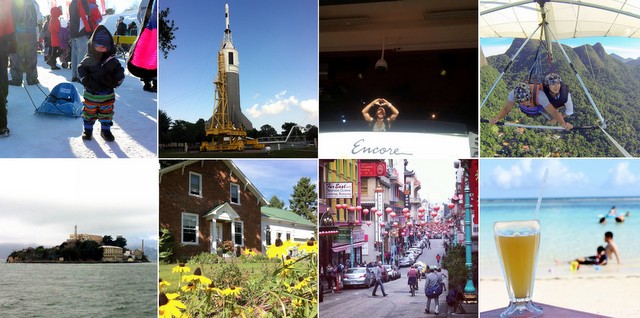 Oh, the places we went in 2014:
February – We took a road trip to Ottawa and enjoyed beaver tails and hot chocolate during Winterlude. It was freaking cold. The kid went tobogganing for the first time in what he thought was a boat.
March/April – Daniel traveled to and from Houston a lot for work. He sampled some of the best southern food he's ever had. His geeky side was tickled fancy when he had the opportunity to visit NASA's Johnson Space Center, touring the historic mission control and catching a glimpse of the Orion capsule which will one day take us to Mars.
May – I went to Vegas for a bachelorette party and was introduced to bottle service, celebrity DJs, and clubbing till the wee hours of the night; it was quite a cultural experience. While Vegas was not high on my list of places to travel to, I had so much fun that I can't wait to go back!
June – Ah, the World Cup, hang gliding and beaches… sans le bebe. Brazil was our big international trip of the year and though it cost us more than we normally spend on a vacation, it was well worth it.
July – Daniel was in California for a couple weeks on business. On the company's dime, he dined in Michelin star restaurants in the Bay area. On weekends, he would explore San Francisco, visiting big tourist attractions like Alcatraz and the Golden Gate Bridge.
August – After a hectic chaotic first eight months of the year, we took some time to unwind at "the cottage" in Prince Edward County. It was a blissful trip of family, food, and relaxing, and helped us refresh and renew for an even busier quarter.
November – Daniel went back to the Bay Area for a couple weeks. He enjoyed warm weather, while eating very well on restaurant patios while I had to endure snow storms. Oh, the fairness of it all.
December – Already sick of the cold, I convinced Daniel that we needed a family vacation to a warm and sunny locale. After some careful planning, we went on a Western-Caribbean cruise to get a tan.
Travel Plans for 2015
With the baby #2 coming this year, we're limiting our travelling this year. Nonetheless, we do have a couple of vacations planned already. Continue reading →